Sometimes, when living a plant based lifestyle, you get really tired of fruit, oatmeal, toast, cereal with almond milk, and even smoothies.  Sometimes, you just want a hot home style breakfast. Before our transition, my husband and I liked to go out to breakfast on the weekends. Now, I've learned how to veganize everything (from waffles to pancakes to breakfast burritos), but we really missed omelettes and scrambles. We heard that a plant based company, who is responsible for creating of a ton of vegan products, was coming out with a new product to support our plant based lifestyle, and to add to our veganizing arsenal, and it is called JUST Eggs. Let me tell you, it is absolutely unbeaten by any other and is so much better than tofu. You can even make some killer plant based french toast. Here's where to find it:
My husband and I struggled for over a year while waiting for a vegan version of eggs to be released in stores around us. Many plant based restaurants served it, but we loved cooking a homemade breakfast on the weekends and really missed cooking a veggie scramble. We found the very best plant based sausage from the Beyond brand to fry up with some avocado oil spray, make hash browns, and our favorite toast. I'll share all of our favorite brands in a minute, but the most important part of this blog is that it is finally here!
The JUST brand finally released their JUST eggs nationwide, completely plant based and made out of mung beans. We  are able to purchase it online and  in some areas, even in your local grocery store. Our first time trying it, we fell in love and it quickly became our weekend tradition. You simply pour it into a pan sprayed with the above mentioned avocado oil spray, season with salt, pepper, and any of your other favorite spices, cook on low, and it scrambles up just like traditional scrambled eggs. We add our favorite veggies, usually shredded in our ninja blender, and plant based bacon and sausage and enjoy the best weekend breakfast a vegan could ever ask for! Here are the items we use every weekend to make it all happen:
This product is 0 calories, non GMO, and works amazing on anything you cook in your frying pan.
This plant based sausage is AMAZING in so many dishes. My husband and I like this spicy version, but they have a traditional flavor as well.
Next we take our favorite veggies like organic sweet peppers, mushrooms, zucchini, and cilantro and shred them up in our Ninja All In One blender. This device can do everything! It comes with every type of of attachment to create smoothies, chop or shred veggies, puree, extract, and even  make your favorite frozen drinks.  It makes life so much easier when you don't have to physically chop every veggie to throw in your frying pan. We always chop them in the Ninja first and begin to cook them before pouring in our JUST eggs. If you've been thinking about what kind of blender to invest in, look no further.
Another staple in our house that we use almost everyday is a plant based bread from Nature's Own. The kids cannot get enough of it and eat it as toast in the morning and make peanut butter sandwiches for lunch. It is the best version of a classic white bread that happens to be vegan. They also have a multigrain version.
For those who are gluten free, like me, we buy what we call "mom's bread." I toast it up every morning with my organic coffee. It is made by Food for Life and it's called Sprouted for Life Gluten Free. and can be found in the frozen bread section of many grocery stores, but It's been really hard to find around me lately. Publix usually carries it, but you can order it on Instacart.com.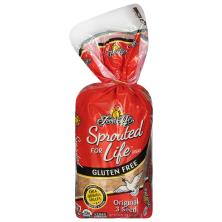 https://www.publix.com/search?searchTerm=sprouted%20for%20life
Lastly, we use Country Crock's plant butter on our toast and have an amazing weekend breakfast. We've tried every plant based butter on the market and this one is by far the absolute best. Our second favorite is made by Earth Balance and we settle for the plant based soy free one if we can't find Country Crock Plant Butter.
You can usually find these brands at your local grocers, even Neighborhood Walmart, and I hope you can find this brand.
https://www.walmart.com/search/?query=country%20crock%20plant%20butter
I hope you all have an awesome day and get ready for an amazing breakfast next time you are snuggled up at home in the morning. The best part is you can eat it without any regret, knowing that every product you just consumed follows your plant based lifestyle.